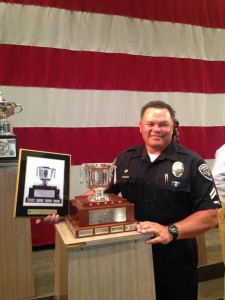 I hope this finds you and your family doing well. The SMGC is looking forward to seeing all of you during 2014 at the various shooting events we will be conducting throughout this year. The SMGC Board of Director's and Club Officers have been very hard at work making the final plans to put on these various competitions for club members and friends alike. We have incorporated several suggestions we had received last year such as practice sessions, clinics and additional GSM Matches.
You might have also notice a few changes on the club's web site as of lately. There is more information, more pictures that ever before. There will also be future tutorials on the site which will give some very useful information for you to use to aid your shooting skills. Additionally, we are striving to have a great line of Communications between the club and all of you. This is extremely important to all of us. It is one our major goals this year to ensure the channels of communications between all of us, via e-mails and the website is current and has useful information for you.
During these next few days, I would like to ask a favor of you all. Please stop and take minute to think about the men and women of our United States Armed Forces. Many of these service members are away from their homes and their loved ones during this holiday season. I ask you to please remember these people who defend our way of live and our Freedom, and to say a little prayer for their safety and May God grant them a safe return to their families and loved ones.
As I have previously mentioned, the club is attempting to provide the things which were asked for by our shooters; however, attendance levels were less than encouraging. I know timing may be part of the issues, but as a reminder to you all, in order for us to put on anything extra (ie. Practices, Clinics, etc.) other than the regular scheduled monthly matches, the club has to still go through all of the steps we do in order to put on these functions. Our club exists to support our Military Shooters and our Civilian participants as well. When you look at the facilities we have made available to you (the shooters), you must admit they are hard to beat. Think about how far you would have to travel to shoot any long range (If not at Camp Pendleton); 3 or more hours? For those who ever plan to shoot and compete at the National Championships in Ohio, Camp Pendleton has the perfect wind conditions which make preparing for the Nationals very easy since rifle zeros (sight settings for various yard lines) transfer over extremely well.
One of the clubs goals for 2014 is to be represented at the National Championships in the Across the Course Nationals and the Mid-Range & Long Range National Championships. Members who will represent the club will use the monthly club matches as the preparation for the Nationals and a way to select the possible members of these teams. If competition at the highest levels isn't your thing and you simply want to have fun and pull triggers, there are no excuses you can use not to participate with us. We are still operating at 2013 prices for the most part, all we ask is you to do your part and make sure you do an ADVANCE Registration on the club's website www.smgunclub.org.
Please don't wait until the very last minute to do this. When you do so, you affect the fair squadding for the match and possible affect the numbers of target pullers we need to provide, but you certainly DO Affect the match start time! It is Much, much, Easier for us to delete your entry vs. having us enter you in the match on the day of the competition. Please make our match director's lives easier and do the Advance Entries. Thank You.
There is certainly more in the plans for the club operations. If you have a desire to help the club and don't know exactly how…ASK ME PLEASE. We need more RSO's for the club and still need more medical personnel too. Other plans also include a Mentorship Program which will allow Active Duty Marines to participate in our Matches. We don't have time to discuss at this time. I have been accused of being a wind bag and I don't want to give those who tell me this any more ammunition, but more details of this and other plans will be brought to the fore front in later briefs, e-mails and website.
Harry Harrison
SMGC High Power Director
SMGC Vice-President