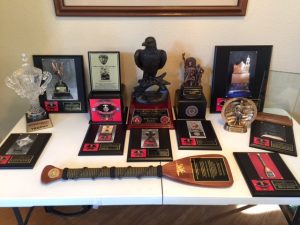 View all CPO Plaques and Trophies
IMPORTANT: The 1000 point aggregate and EIC match dates have been swapped. The 1000 point aggregate will now be on Sunday, Sep 25. The EIC matches will be on Saturday, Sep 24. This is due to possible airspace issues later in the day on Sep 24. Please read the CPO Sep 19 Bulletin (PDF) for critical match date and time information.
The SMGC is open to any and all volunteer help for the Camp Pendleton Open. If you can attend as a non-shooting volunteer, please contact the club ASAP.
*
IMPORTANT: Effective 02/01/2016, non-military ID persons will not be able to enter the base by simply providing a Driver's License. The person must also be sponsored.
Sponsorship for non-military match participants is provided by the Santa Margarita Gun Club when registering and providing Driver's License information to the club by NOON (Pacific Time) on the Wednesday *BEFORE* the weekend of the match in question.
MCB Camp Pendleton Security Regulations require the match sponsor (SMGC) notify the appropriate Base agency of Non Department of Defense (DoD) persons participation in the Match on the Wednesday preceding the Matches. This notification is generated by the received match entry forms and intention to enter correspondence. DRIVER'S LICENSE NUMBERS AND STATE OF ORIGIN ARE PART OF THIS INFORMATION WHICH IS TURNED INTO THE BASE SECURITY. Therefore without this information, your entry onto MCB Camp Pendleton may be denied. Additionally, persons who have expired driver's licenses will not be granted entry onto Camp Pendleton.
Please use the secure, encrypted online form to submit your updated DL information, in addition to your match registration.
All Electronic Entries for ALL Matches & Non-Firing Participants, must be done by NOON on WEDS before the Match otherwise Civilians will not placed onto the Base Access Roster and there by will NOT be allowed on Base.