The Santa Margarita Gun Club is a non-profit organization dedicated to the promotion of safe, competitive shooting sports.
The SMGC is open to all military personnel (Active Duty, Reserve, Retiree's and their dependents) as well as civilians. The club encourages the participation of Juniors to learn and excel at safe marksmanship
We practice the "Fundamentals of Marksmanship" using both NRA and (CMP) Civilian Marksmanship Programs and tournaments. Our main emphasis is on Rifle and Pistol Competitions.
We welcome everyone with their various skill levels to come out and join us in our matches.
The Santa Margarita Gun Club is not affiliated with the United States Government, the United States Marine Corps, the United States Department of the Navy, or any other branch of the United States military and armed forces.
The SMGC conducts authorized competitive shooting events at several ranges on the Camp Pendleton Marine Corps Base. These shooting facilities include: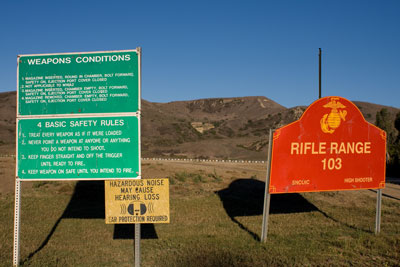 For further information regarding the club, check out the following information pages:
If you still cannot find answers to any questions you have about the Santa Margarita Gun Club or the club's programs, feel free to use the email form on the Contacts page and a club official will try to answer your question(s).