This months match had to get started early as we had a Marine unit occupying Range 116 for Table I / II qualification drills. Asked to arrive half an hour early, the regulars and newcomers alike amassed in the parking lot of Range 116 at 0-dark-thirty. I  actually rolled in right about 6:15am and was cordially greeted by Mike Jones decreeing to at least four other participants also on deck that I was NOT the first to arrive. Clearly I was usurped  of my self-proclaimed title, and it was at a great loss too. Everyone knows I'm also the LAST guy to leave the range and this was my only claim to fame!
Beginnings aside, today was going to be a lucky day. It all started with a rabbit: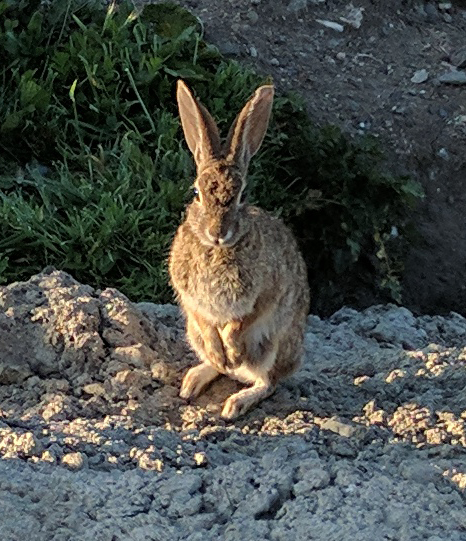 This unusually brave varmint was hanging out at the entry gate to 116 and several of us marveled at how little he seemed to care about the great number of people only steps away from him. Of course it's not unusual to have all kinds of wildlife on base, but this little guy almost appeared to be observing us. Regardless, as he perched there while we waited for occupy status on the range, the beauty of the recent rains on base continued to put on a great show as the light streamed down across the hills.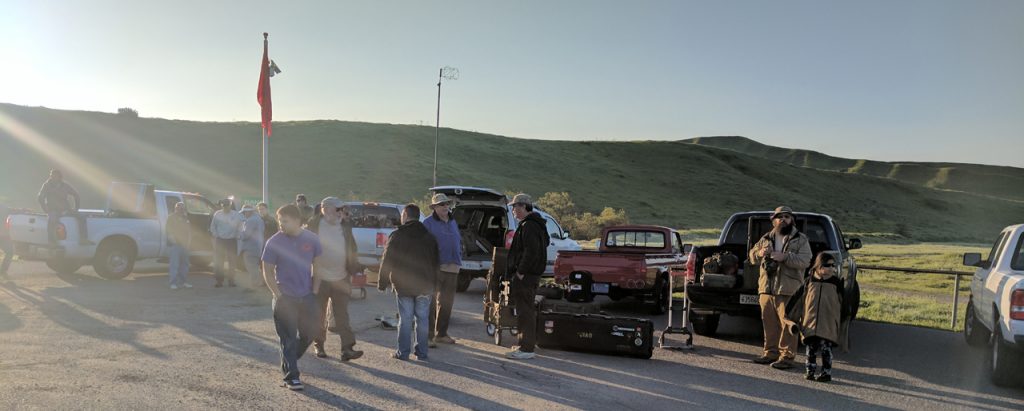 It was the start of a beautiful day, and as an extra treat, we were fortunate to have pit pullers for all firing points today. The idea was to finish early by eliminating pit changes so the staff and volunteers could help prepare the range for the inaugural Precision Rifle Series match that was to be held the next day on 117A. This PRS match came very close to being aborted. Range Control greeted us while we were still in the parking lot and informed us that the course of fire had not been approved and that we would no be allowed to shoot steel or fire upon anything other than our standard targetry. This was 24 hours prior to the start of the PRS match. We were going to need all the luck we could get!
As we began to go through the occupy routine, bomb carts were loaded with competitors and gear. After shoving off, a brief stop at the nearby CONEX box to load up the targetry was next. We got a glimpse of the Marine unit beginning to assemble for their venue. This was an interesting point, as it meant we would not be coming back this way at the end of the day. When their range status went to HOT the access roads we travel would be secured and no longer open for travel. More on that later!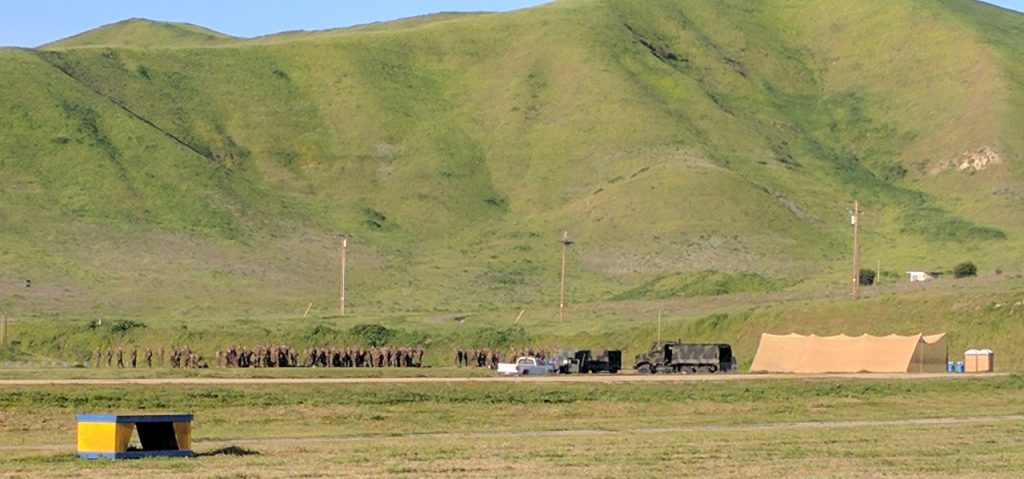 As mentioned, the recent rains had transformed the surrounding hills and range basins. Even though no rain had fallen in some time, we still had a lot of both running and standing water to avoid. At the top of the range, at nearly maximum elevation for the area, water still made it's way across the access road next to the 1000yd line making it thick with mud. Correspondingly, Lake Butts was also still putting up a good fight to pit entry. Of course it was no match for the venerable Land Cruiser of John Hermsen.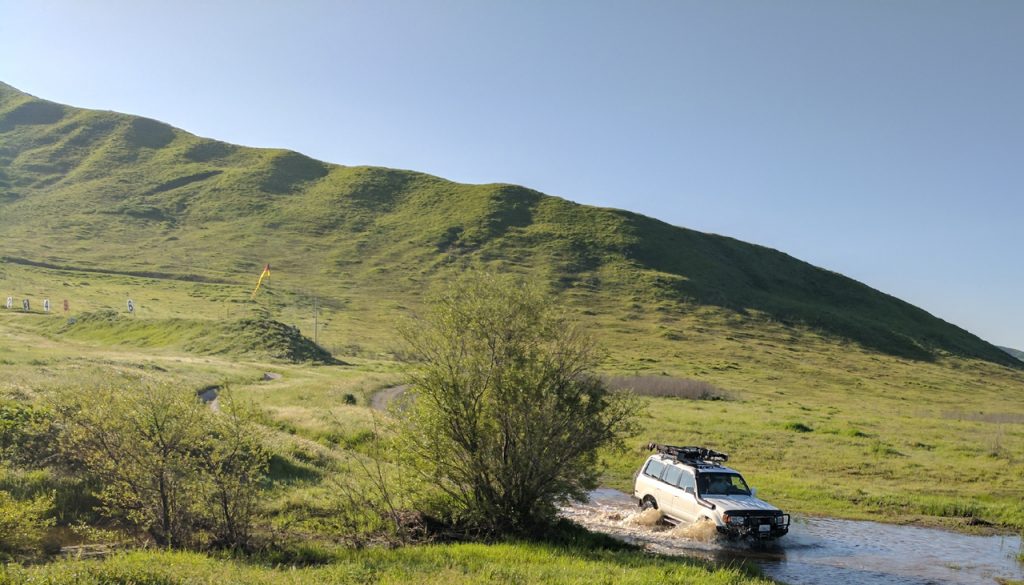 When we arrived at the 1000 yard line, the forces of nature were clearly hard at work trying to take back what once was a dirt berm.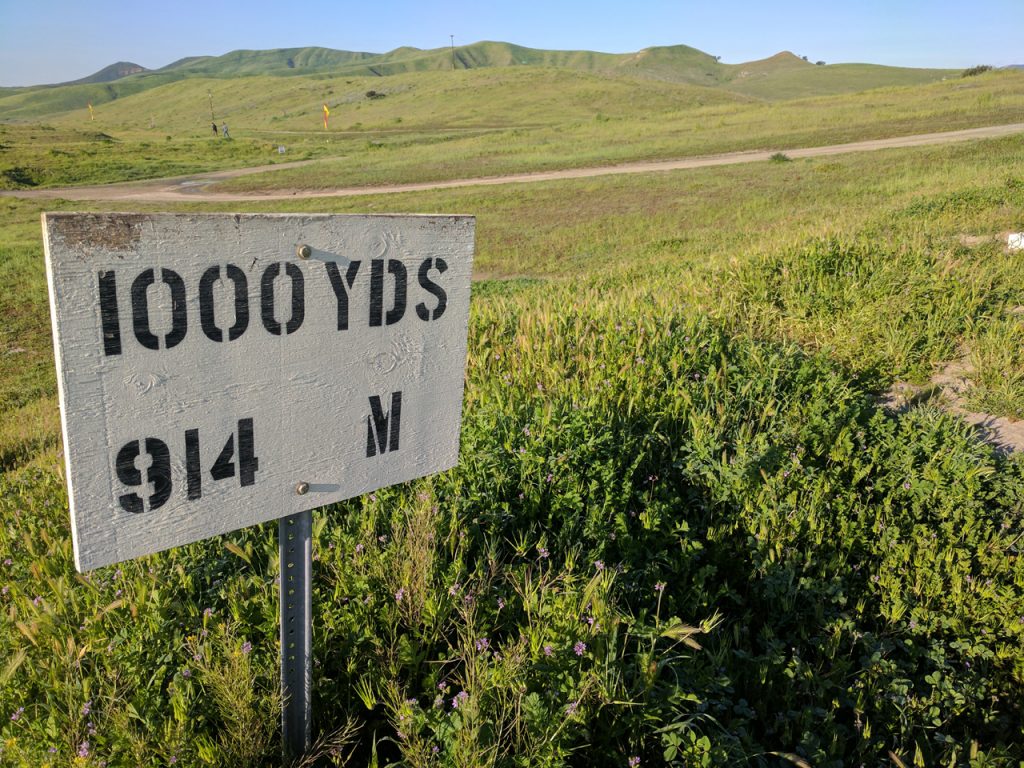 Firing point one was completely overgrown. This is even after we had carefully 'tamed' it back in the beginning of February. None of us were expecting to have to bring weed whackers in our gear boxes, but if the rains keep up like they have been, it might be a new tool to add to the checklist!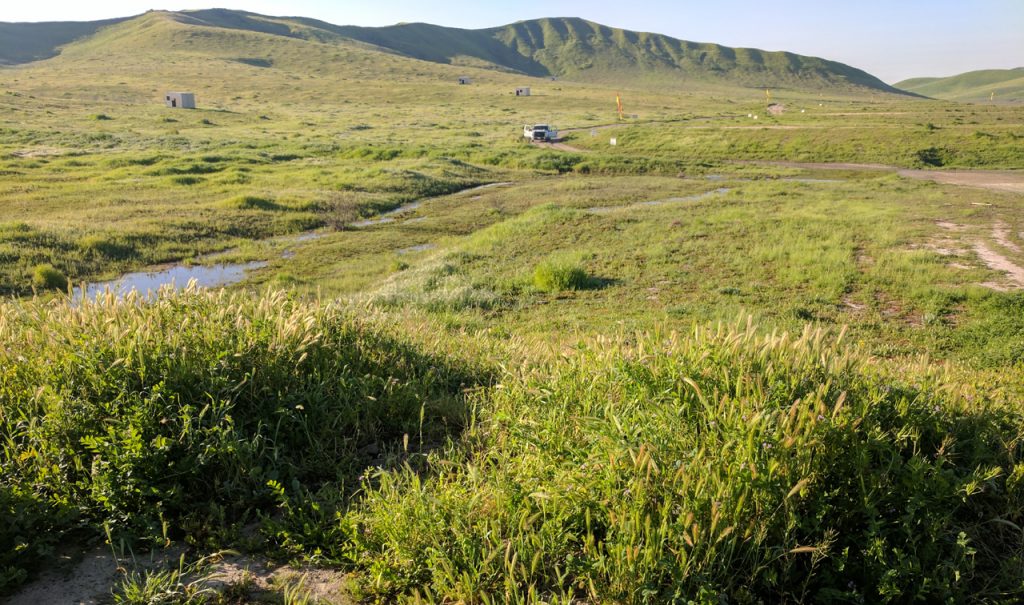 Still we pressed on, grooming the line and getting our gear in order. Marc Mittry drew firing point one and did his best to dampen mother Nature's enthusiasm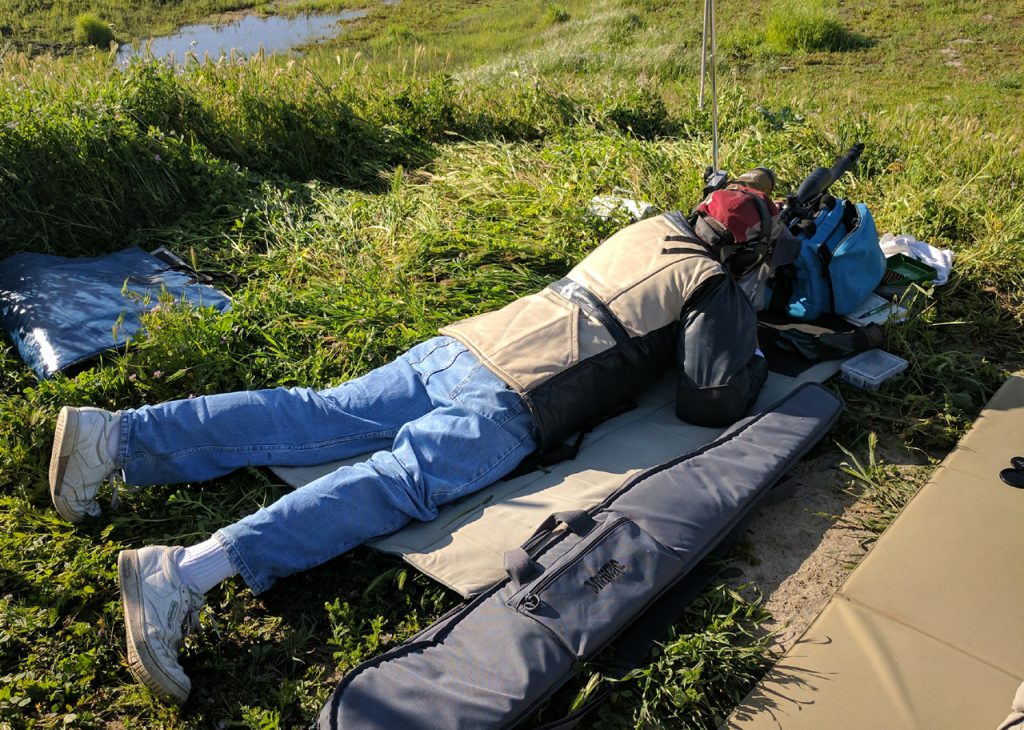 Sam Hoskins simply laid his 300 win Mag down next to the shrubbery and let his muzzle brake do the work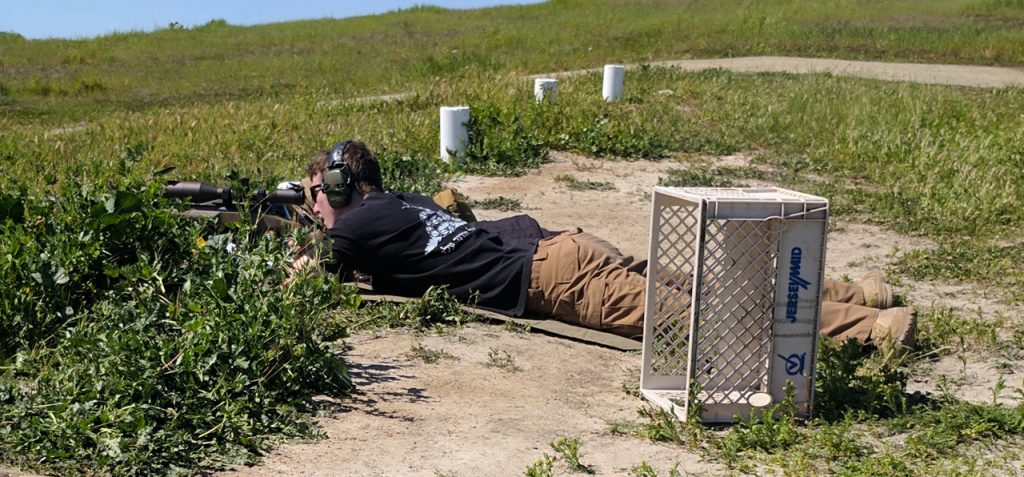 We had a very calm and steady wind in the morning, giving all competitors a chance to shoot for high scores. This was well received especially with the absence of pit changes! Here's the min/max/average at 10am on my anemometer which I powered up about 8 am.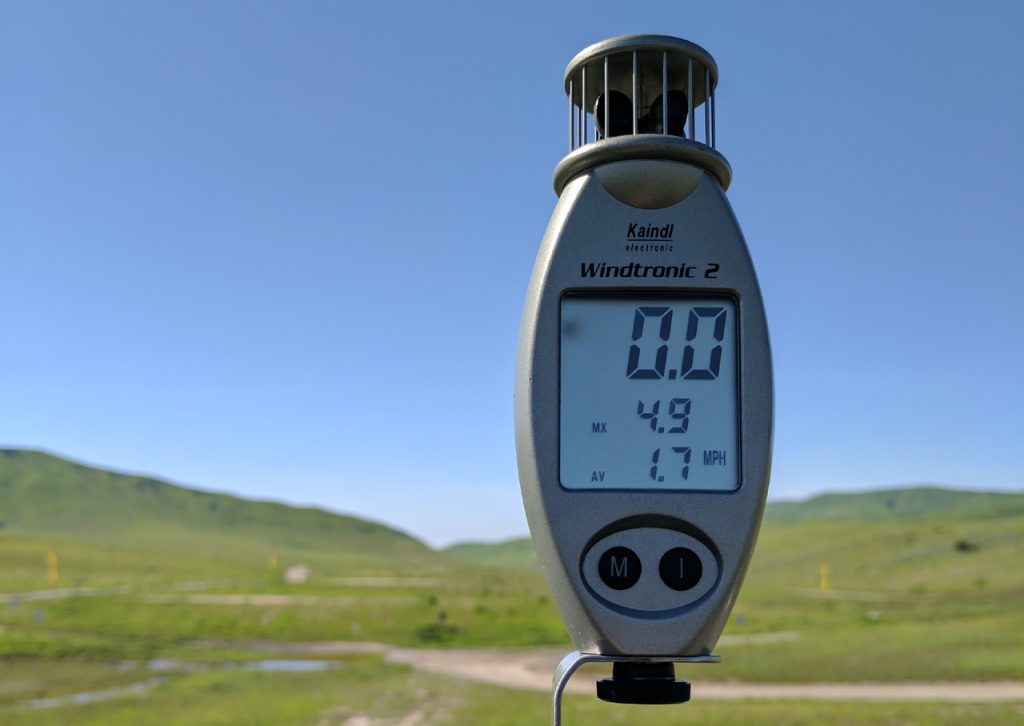 Of course the scores reflected this, but more than once we saw the wind change it's direction over the course. Mirage was definitely your friend this morning. Those with keen eyes and a steady rifle were awarded excellent results. In fact, in his first string, Mark Roth shot a clean 200-6X in F-Open with Marc Mittry hot on his tail with a 198-7X in Match Rifle!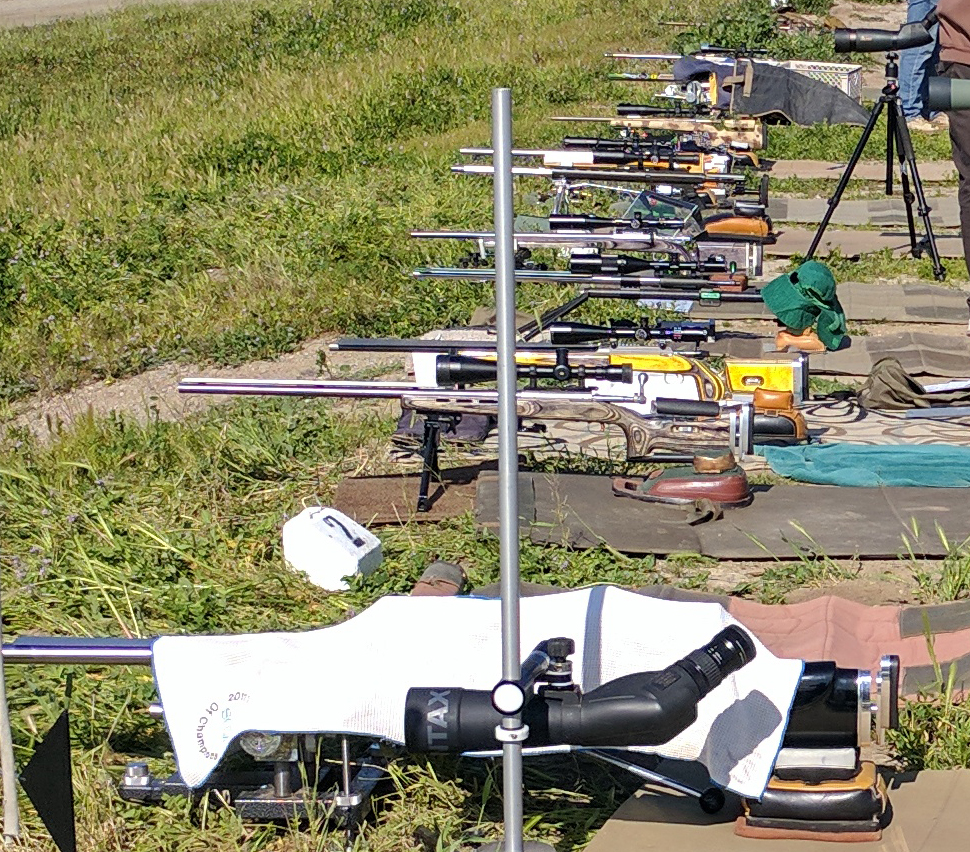 With no pit changes, shooters could leave gear up on the line in a pre-staged condition making the 12 participant match look a lot bigger than it was. We were just digging into the second relay for all shooters when a cease fire was called. Range Control had arrived again. This time to inspect our club and our occupation of the range.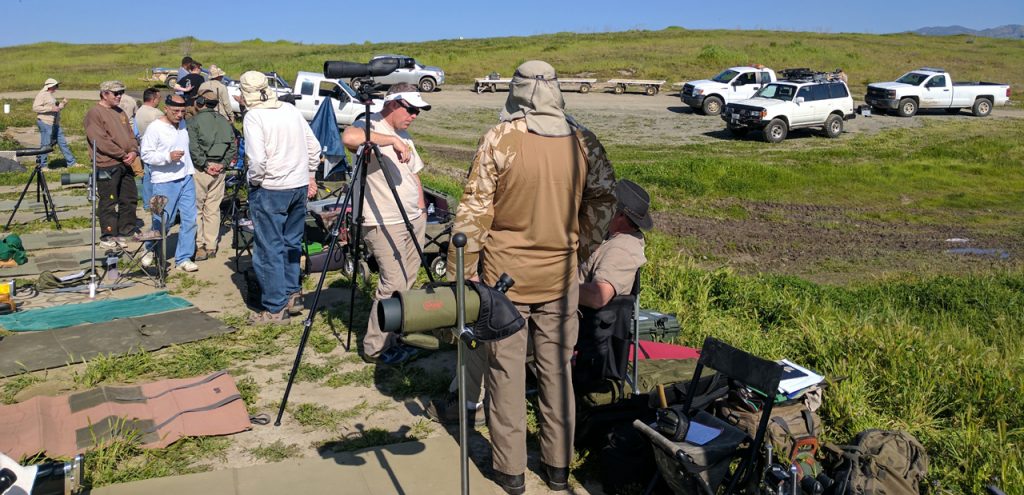 Again luck was with us, the two inspectors who came to do the inspection were very informative and helpful. We were given information to improve our occupation of the range to ensure even the most stringent of inspections would pass with flying colors. This is important, as if we had not passed muster, this would have been the end of the day for us. Thanks go out to the inspectors for their council and eagerness to help the club remain on the range! Some of the disseminated information include updated range environmental maps. As seen below, we have a few areas to watch out for, these contain protected plant life.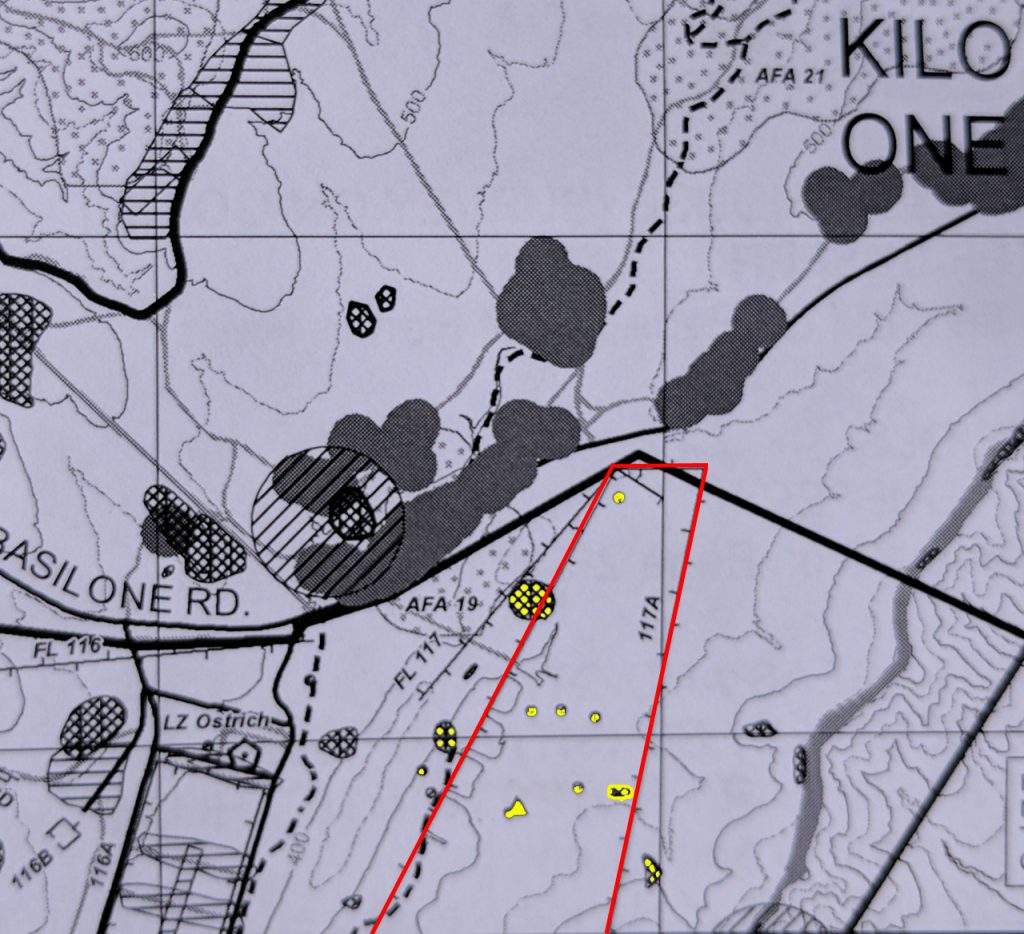 Back on the line the typical range fish tailing winds began to pick up. We saw an 8~12mph headwind for the rest of the day putting everyone on notice that your next shot might not be were you want it to be. Rich, Gene, Gary, and Duane battle with the headwind below.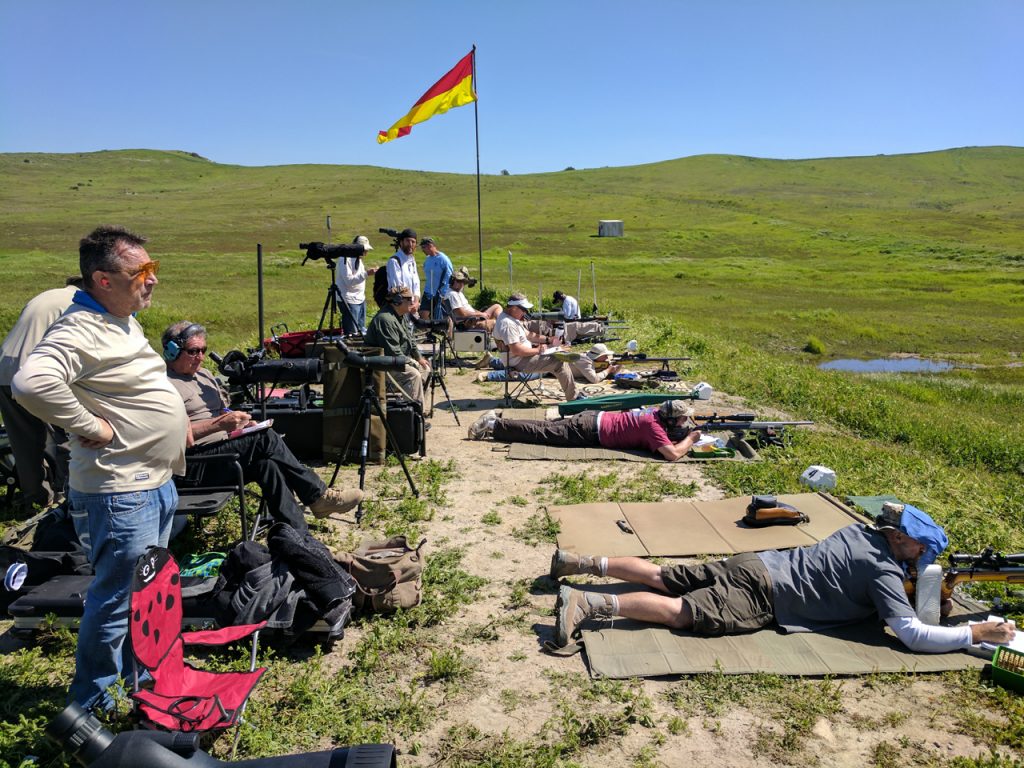 Marc Mittry just turned his back on it all, posting an amazing 593-24X in Match Rifle for the day. Duane gives pause to consider the next wind call while Walter looks on as scorekeeper.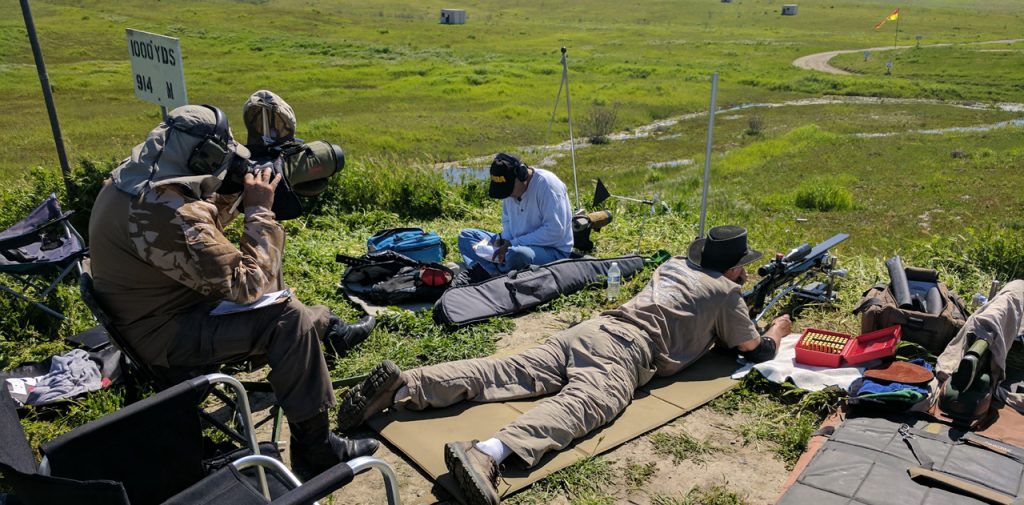 Here we see Lee Davis scoring for Gary Atkinson. Both are F T/R competitors and there is good rivalry here. Today Lee showed up with a .223 and won F T/R with a 582-11X! Gary didn't let him get too far ahead at 573-12X for the day. That's some great shooting guys!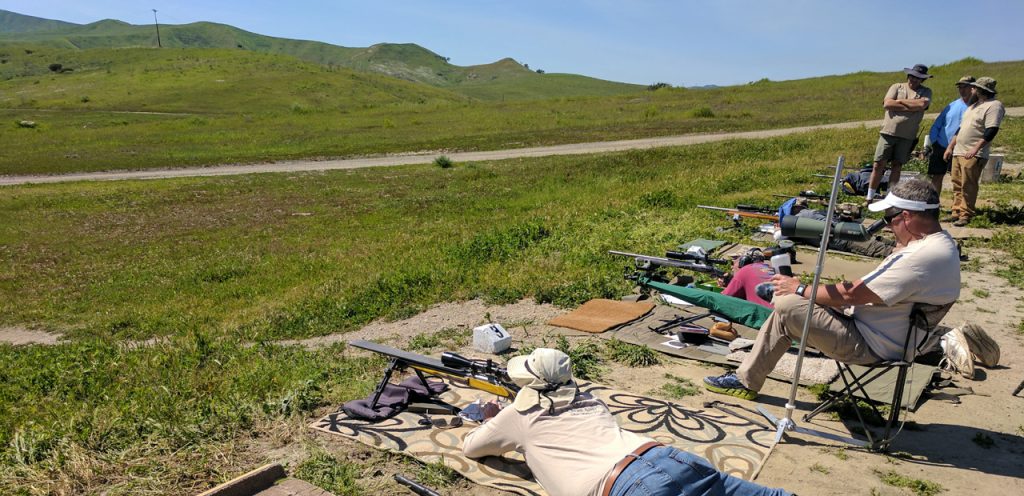 No doubt the biggest win of the day went to Mark Roth. Not only did he win F-Open, he also posted what the club board members have verified as a high score for the range going back over four years of data!
-Drum role please –
Mark shot 596-24X dropping only FOUR points the whole day. Don't forget as I mentioned before one of those strings was a clean, and in the later two stages he dropped only two points each time. That is an extremely tough act to follow, and I know I speak for all of us when I say how proud we are of such a performance. Fantastic shooting Mark!
And if this wasn't enough, Mark Roth won the California State Palma Championship last weekend at Coalinga with the highest overall score, earning one of the Golden Bear trophies! Congratulations Mark!
Watching over the match was our ever vigilant Chief RSO John Hermsen. Here he makes it look easy. I promise that what you don't see in this photo is quite a grin. Not only were his club members putting on a great performance, he'd also just gotten the call that the PRS match course of fire had been approved with less than 20 hours to the start of the match!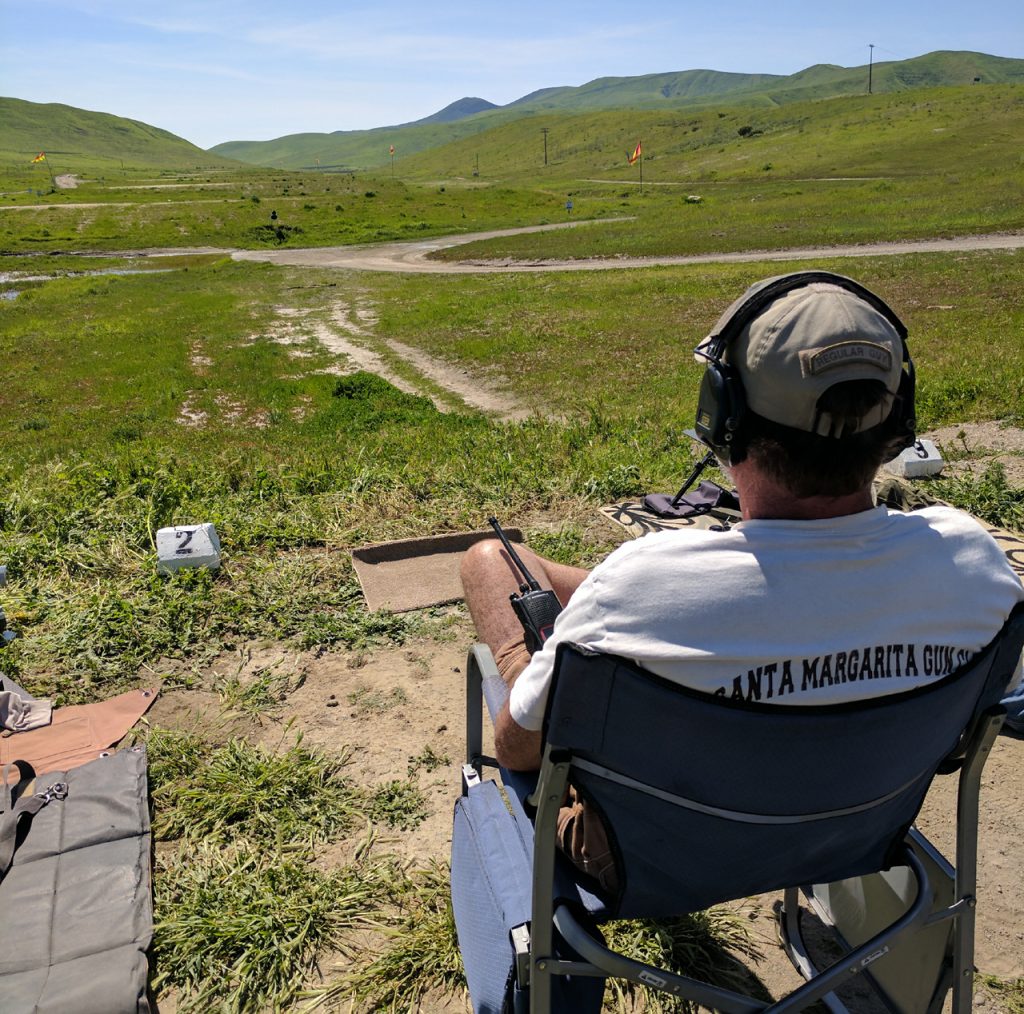 As time had gotten away from us with the range inspection and delayed start due to range occupation complexities with 116, Gary Atkinson and his neighbor Joe graciously volunteered to take home the targetry and rebuild/repair it to alot more time to getting the PRS gear set up. Thanks so much for taking that on guys!
And so the end of the day came at 13:40 which considering all the extra variables we conquered was very good. With all the things that went in both the clubs and individual competitors favor, I'd say we'd all be happy to see lucky the rabbit manning the gate at 116 again. He better stay sharp though, those feet of his have sure come up in value!
Thanks to Rich Elliott and Van Texas for your support as Medics, today, we'd not be able to occupy the range without you!
Sadly I had to hop a plane the next morning for work so I missed out on the PRS match. Keep on reading below as Mike Jones narrates what was an extremely challenging and rewarding day.
Saturday's Scores:
Gary Atkinson – FTR 571-12x
William Baston FTR 532-6x
Lee Davis FTR 582-11x
Rich Elliot F-OPEN 569-9x
Duane Fitzgerald F-OPEN 586-17x
Sam Hoskins F-OPEN 559-2x
Marc Mittry Match Rifle 593-24x
James Jiao F-OPEN 532-5x
Mark Roth F-OPEN 596-24x
Kerry Stottlemyer FTR 455-1x
Simon Wagner FTR 551-8x
Eugene York F-Open 556-10x
On Sunday we hosted our inaugural PRS steel match at Range 117. This is a match we have been hoping to host for a few years now and finally were able to coordinate with the help of the School of Infantry Scout/Sniper School. We hosted eleven Marine instructors from SOI and twelve of the shooters associated with West End Gun Club. It was a very good turnout for a Sunday! Thanks to Rich Elliott, Van Texas and Barrett Levesque for your support as Medics. Thank you to Dave Ellis for being the RSO for the match. SMGC would especially like to thank active service members for their support and participation in our inaugural PRS match. We had a fantastic turn out that included a Navy Master Chief Petty Officer, eleven Marines, and Marine Wounded Warriror participant, Jorge Toled
During this match we shot at steel plates positioned at unknown distances from 220 yards to 875 yards with short time limits and assorted gimmicks like: shoot 3 targets in a row, perform a magazine change, and then shooting the same 3 targets in reverse order with your weak side. At another stage: shoot 2 targets, move to a second position and shoot the same targets, move to a 3rd position and shoot the same targets once again. Typical stage times were 120 to 150 seconds maximum. On some of the stages we were firing at 3 different known distances. At others the space between targets were far enough apart to put them out of field of view. Additionally they were all placed at unknown distances from the shooter so the target had to be ranged and then engaged within the stage time limit. In total there were 9 different stages of fire with a total expended round count of 103 rounds if you were clean and hit every target.
To say the least it was a challenge, and completely different from anything we normally do.
Walter Lange should get the "Hero award" as he was by far the oldest competitor and he completed every stage of the course.
PRS High Score – Joe V 62.00
PRS High Service – Tony Palzkill – 52.00
PRS High 308 (Service) – Joshua Lopez – 44.00
Sam Hoskins – SMGC winner of PRS Match! – 34.00
John Hermsen – Biggest smile for finally getting to shoot steel on R117
Walter Lange – Oldest competitor in the PRS match by far
All PRS scores are available in PDF at the club website
.
Thank you to everyone for coming out to shoot this weekend!
Mike Jones
Long Range Director, SMGC