The final match on December 17th, has taken place for SMGC in 2016 and it was quite a success! Congratulations to this fine group of Pistol Shooters who braved the sunny but very cold conditions on Range 102. SMGC and Pistol Director Ted Falencki, were able to hold (2) EIC matches (Service Pistol and .22 Cal Pistol) on Saturday, December 17th.
The Pistol Scores for the competitors are attached below. Congratulations to the winners of each EIC Match! Their names are listed below and should receive their respective award(s) from the CMP shortly in these respective categories:
Service EIC Match Winner: Mark Freeman with a 264 x 4 (Already Distinguished)
2nd Place Winner: Marc Lerwick with a 240 x 3
3rd Place Winner: LCDR Derek Rader with a 239 x 0
.22 Caliber Match Winner: Mark Freeman with a 273 x 6
2nd Place Winner: Nicolas Van Egmond with a 266 x 2
3rd Place Winner: LCDR Derek Rader with a 262 x 1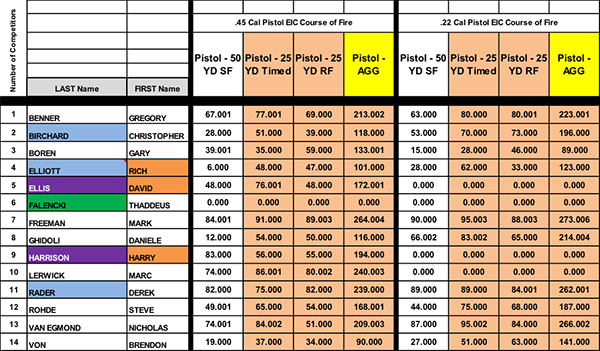 We had all of the competitors who signed up to shoot the match "actually show up" (this was a first) and there were even a few walk on competitors as well. All of them were able to brake in this brand new facility. The new facilities did not have their 4×4 Posts with Table Tops on the range as of yet. SMGC had to supply some tables to set the pistol boxes on and we were able to make it work. With cooperation from all of the elements aboard MCB Camp Pendleton which included: Range Control, the MCCS Pistol Range (102A), the Wilcox Complex Range Staff and base security we were able to conduct this first of hopefully many Pistol Matches on Range 102.
Ted Falencki is in need of additional Assistant Pistol Director(s) to help this ball keep rolling in the future. If you have a desire to help keep this program running, please give it some consideration and contact Ted directly at his e-mail address: onthejobto@aol.com
The pistol program will also need persons to become RSO's and will also need Medical Personnel too. To qualify as a Medical Person one has to have an EMT Rating or higher (LVN, RN, MD, etc.). Those who are either will automatically be granted a Regular Civilian Membership to the SMGC.
One question was thrown out during this Pistol Competition: "Is SMGC looking for members, even Associate Members?"
The answer to this is; "Absolutely!"
Club Memberships allows SMGC to pay its big ticket item bills such as the Club's Insurance Policy, Targetry and all the Target Supplies. In return, "Members" get discounted rates for all club functions including discounted entry fees which are usually $10 dollars off for each match/event you shoot in regardless of the shooting discipline. Associate Memberships are $75.00 annually and Regular Civilian Members pay $50.00 annually. Retired Military pay $ 15.00 annually. Active Duty personnel, reservist and Medical Personnel have FREE memberships. If you like to shoot, joining the club as an Annual member makes sense in the long run and it helps out the club in the long run. Memberships are now being accepted. 2016 Club Memberships will expire on January 31, 2017. To become a member of SMGC simply download the Membership application including the Release of Liability forms from the club's website. Complete the forms (4 pages total) and don't forget to include a photo copy of your driver's license and/or your military ID card and send the application to the club's P.O. Box. All memberships (NEW and Renewals) are asked to complete those four pages to ensure all information is updated annually.